Business marketplace accelerators: advanced features
Advanced Marketplaces Features
"Optimizing your presence on marketplaces requires having a cutting-edge, flexible and ultra-efficient tool"
Sylvain Mançois , Sellermania Product Manager
Adapt your offers to the specificities of the market
Each marketplace has its particularities, its competition, its shipping cost policies, its promotional mechanisms, its logistics solutions. The "multi-marketplaces" item page allows you to manage everything at once, enter different prices on each marketplace, your delivery times, your promotions … this is big time saver and easy way to manage all marketplaces, and an exclusive feature.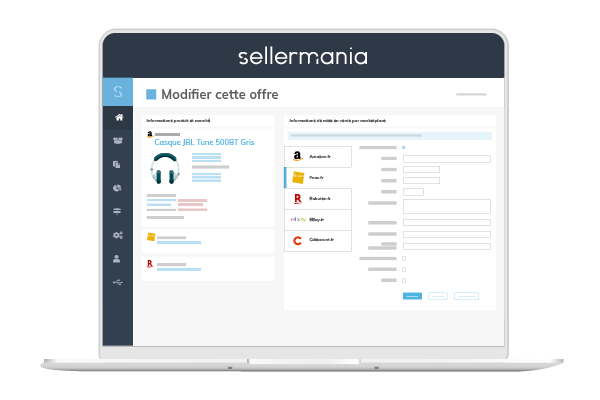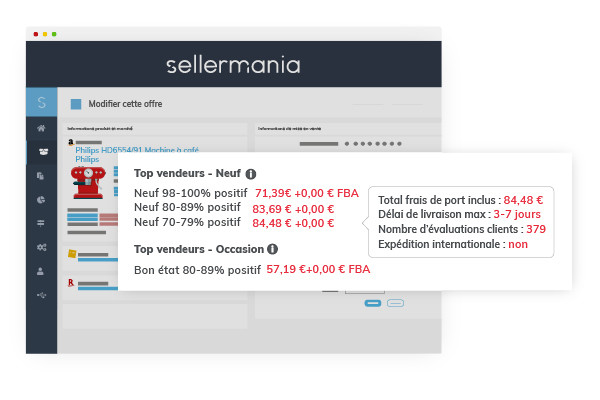 View the state of the market continuously
When you list a product, immediately visualize competition on each marketplace , and establish your selling prices easily. The interface shows at what price it is selling on Amazon, Fnac, Cdiscount, Rakuten, what is the sales rank, who sells the product, in what item condition, with what logistics solution, the number of competitors…
The Sellermania website clearly shows where the market is for your products which allows you to make better decisions and ultimately increase your turnover and margins.
Smart Chain: the solution for duplicate listings on marketplaces
On marketplaces, it is not uncommon for the same product to be referenced several times, with different EAN codes. How do you make sure you match your offer with the correct listing version?
Smart Chain allows you to list your item on all versions at the same time, and to "chain" the skus together. For the same product in your inventory, and therefore the same stock, you can match this product to different products on the marketplaces.
This feature, which you will only find at Sellermania, increases your catalog exposure, and reduces inventory errors by automating stock management.
This resolves many problems of correspondence that are usual on marketplaces, in particular in the fields of refurbished product, ink cartridges, telephones and accessories.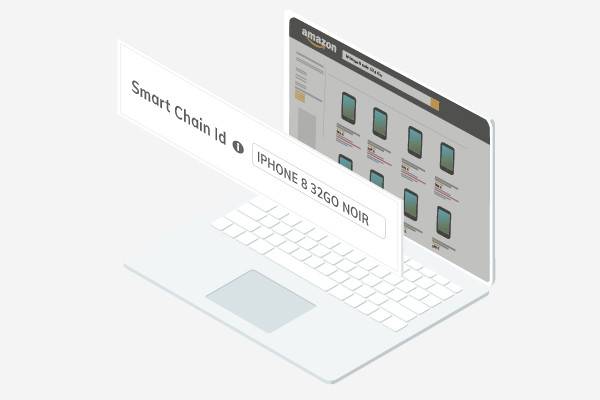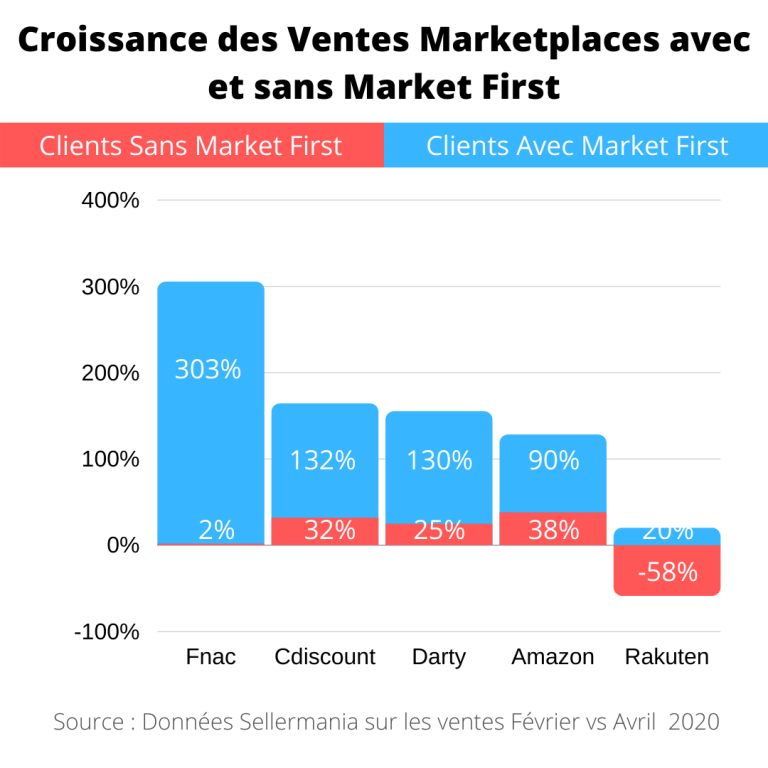 Dynamic price calculation
Marketplaces are by nature competitive. 
Sellermania adjusts your selling prices constantly, according to your margins, competitors, and a number of criteria other than price: the condition of the items, your competitors customer ratings, the type of logistics … The adjustment is made as many times as necessary during the day, and for Amazon, it is real time .
You can even send the prices of marketplace Y to marketplace X, or make rules like  : "put the prices of X increased or decreased by y%".
Sellermania is the only marketplace technology platform to natively include a price adjustment module.
The result  : + 300% sales on Fnac for sellers who use Market First, + 132% on Cdiscount, + 90% on Amazon …
Invoices with VAT on margin
Generate personalized invoices with your logo , with sequential number, with VAT, including the seller's comments on your items. These invoices are kept in Sellermania without time limit and can be exported in CSV or PDF at will, and can be sent in bulk to your buyers, with a link in a personalized email.
VAT compatible invoices on margin: do you sell used products? if you are subject to VAT on margin, your invoices must meet a particular standard. Sellermania is the only platform allowing you to issue an invoice compliant with the standards for VAT on margin.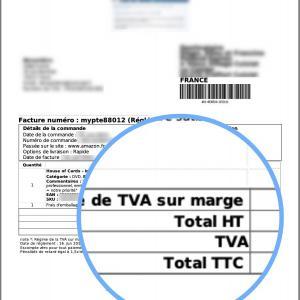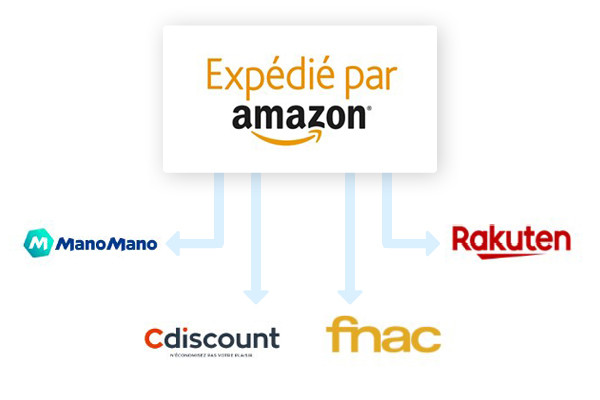 Have your sales from other marketplaces shipped by Amazon
Amazon can take care of shipping your items from other marketplaces . You then use Amazon as a logistician, which frees you from all logistics, whatever the marketplaces.
Sellermania is 100% compatible with this feature and allows you to forward all orders to Amazon, without you having to do anything . For example, if you make a sale on Fnac, Amazon ships it, and the buyer is notified of the shipment with their tracking number, completely automatically. This is a Sellermania exclusive feature.
Synchronize your inventory with Amazon warehouses
If you use "Fulfilled by Amazon" you know your stocks are adjusted every day by Amazon. Some items go out of stock due to damaged, unsellable, customer return, lost item … All of these adjustments can get costly to you, especially if you use Amazon's logistics to sell on other sites – you risk selling items that you no longer have.
Your Sellermania account constantly synchronizes your stock with the physical stock of Amazon warehouses. In this way, stocks exported to sites other than Amazon are always correct and you gain in quality of service.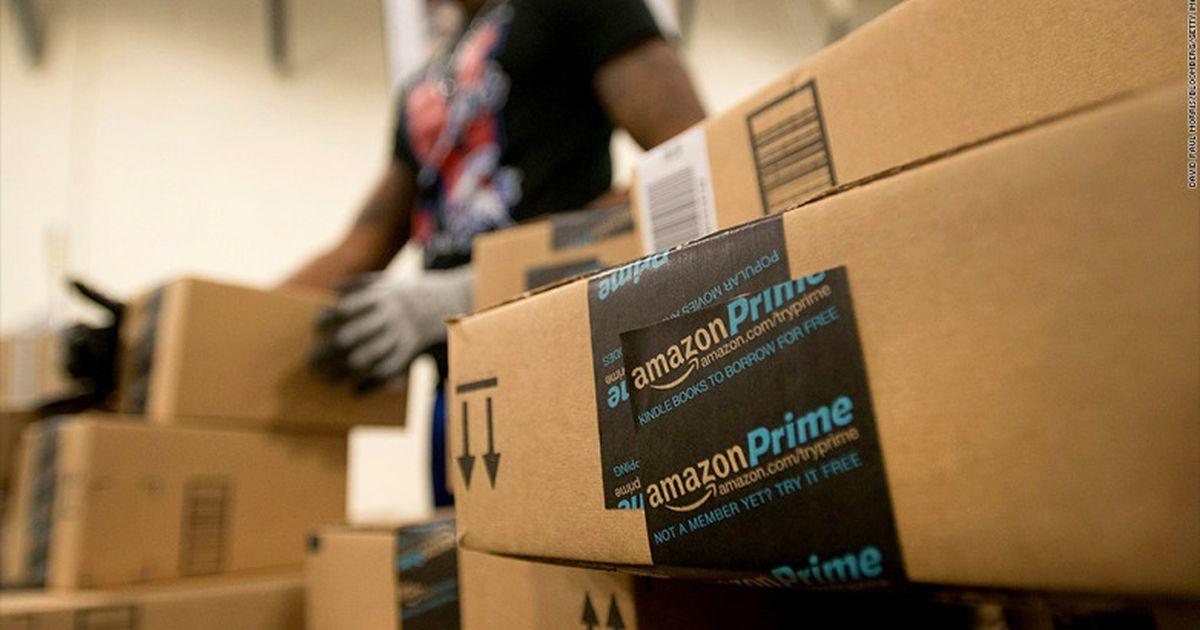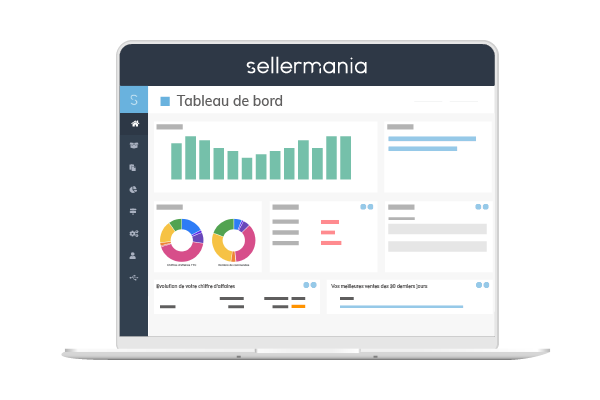 Real time analytics on your sales
Sellermania's analytics shows relevant information, by marketplace, by time period, and let you know immediately how you're doing.
Your Sellermania dashboard shows your best sellers, their stock level, the number of days of remaining stock, the sales generated. You have immediate visibility on products that are not selling. Those are essential indicators to optimize and progress in a retail business.
The "Salesrank", ie ranking in sales on the market allows you to prioritize your adjustments at all levels, whether for the stock or for the price. Visualize this important data in your inventory, in the product sheet, and export it to Excel easily.
Works even if you don't have a feed
If you are currently working directly on marketplaces , without going through a website, a product feed, by making your updates as you go, you certainly spend a lot of time there.
Sellermania is the only marketplace platform allowing you to manage marketplaces with so many features and without product feeds . See Sellermania as a multi-marketplace Seller Central, to add products, centralize your orders, synchronize your stocks between marketplaces, standardize what you do today manually, and automate what takes time.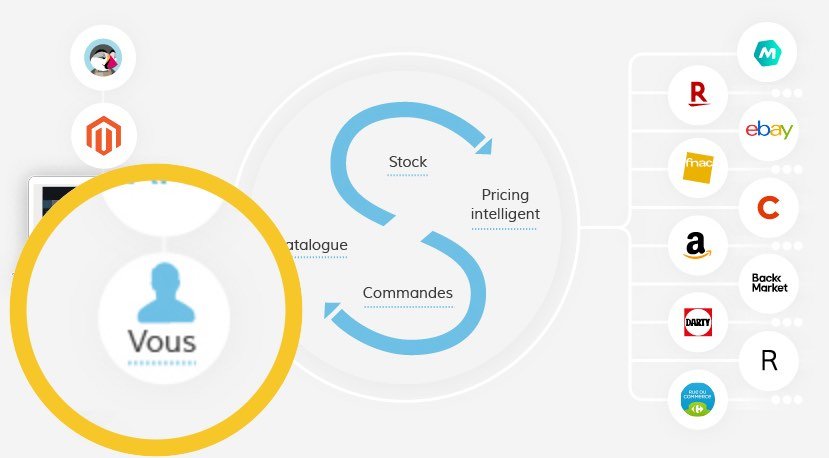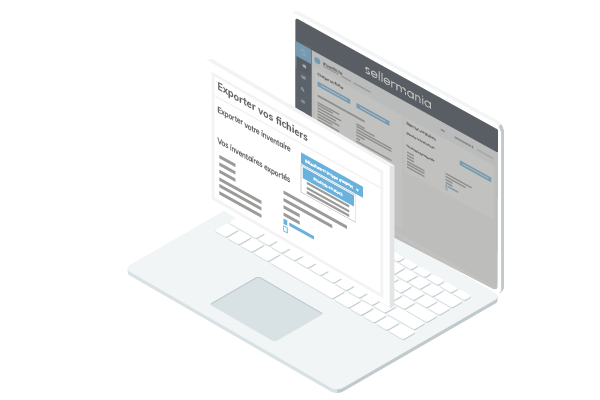 Export and optimize
Export your orders or inventories in CSV format , with all the information you need to work. Configure the exports in the format you want to reintegrate them into your internal tools, your logistics provider, a carrier, another marketplace, etc.
By API you can connect Sellermania to your system in order to manage everything remotely: retrieve orders, confirm them, update stocks, prices …
Upload a CSV file with your products in inventory and the columns you want to modify. To change stocks, for example, a simple two-column file makes it very easy to do so.
Learn more about optimizing your Marketplaces sales
Would recommend to a friend
Are satisfied or very satisfied