Prestashop marketplace module
PRESTASHOP Marketplace module
You work on Prestashop and you are looking for a marketplaces module ? Export your product feed to marketplaces, collect your orders, synchronize your stocks. Sellermania's Prestashop extension allows you to get the most out of marketplaces without leaving its Prestashop interface.
Sellermania's Prestashop marketplaces module is free and interfaces perfectly with marketplaces via Sellermania's marketplaces feed management software: Amazon, Cdiscount, Fnac, Rakuten, Mano Mano, Darty … export your catalog to all these marketplaces and increase your sales.
Features natively supported by the Prestashop marketplaces module:
All marketplaces connected to Sellermania can be found in your Prestashop
Continuous integration of marketplace orders into your Prestashop
With all the details of Sellermania orders: EAN, SKU, category, status …
Automatic order confirmation from the module
Prestashop sends the tracking numbers to the different marketplaces via the marketplaces module
Printing marketplace invoices from your Prestashop
Decreasing stocks directly in your Prestashop: Orders from marketplaces decrease your Prestashop stock and vice versa
Catalog export: your Prestashop catalog is sent via the module to marketplaces
Creation of product sheets: an article created in your Prestashop can be created directly on the marketplaces
Inventory management with size / color variations
Possibility of chaining the SKUs corresponding to several EANs
Dedicated to Prestashop, a marketplaces module developed by specialists
Module developed by Froggy Commerce, a specialized Prestashop agency, made up of former Prestashop developers, in association with Sellermania, marketplaces expert for 15 years.
Used by hundreds of merchants on a daily basis.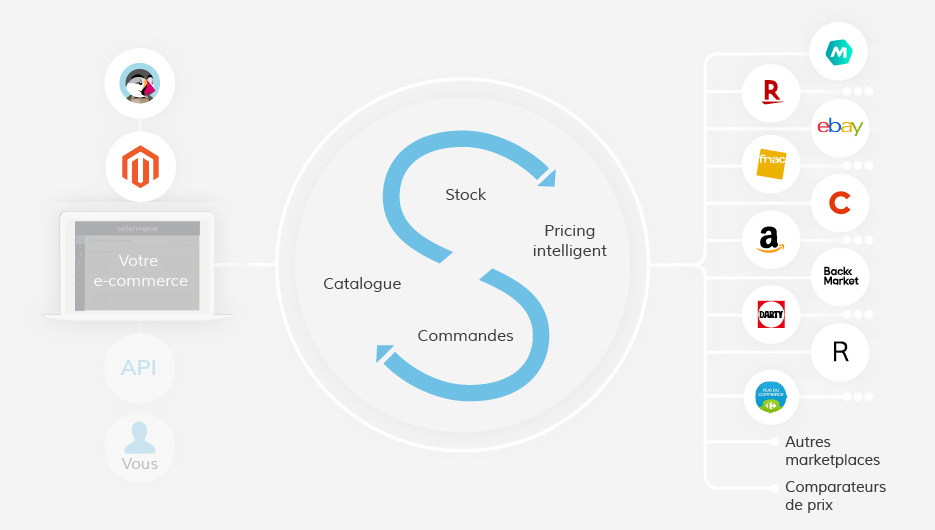 Download the Prestashop marketplace module for free.
Our marketplace module is compatible with Prestashop versions from 1.4 to 1.7 and is accompanied by installation documentation.
Do not hesitate to contact our experts for more information: 01 79 75 53 00 .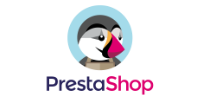 Frequent questions and answers about Prestashop's Sellermania module for Marketplaces
Prestashop marketplaces module
The Prestashop marketplaces module for Sellermania is compatible with PrestaShop versions 1.4, 1.5, 1.6 and 1.7.
To configure the Sellermania Prestashop marketplaces module, you need to retrieve the webservices identifiers of your Sellermania account (email and token, to be requested from your Sellermania account manager).
This allows you to link your Sellermania space, through which all your marketplaces flows, to your Prestashop account:
Your marketplace orders will be imported into your Prestashop e-commerce site
Your stocks will be dynamically updated on the marketplaces from your Prestashop site
You can download the configuration documentation and help for this Prestashop marketplaces module, available here:
Yes. In the Sellermania Prestashop marketplaces module, you will find the Catalog Export tab. In this tab there is a link that allows you to download your catalog export.
The spreadsheet file obtained corresponds to an export at time T of your Prestashop inventory, and is used to distribute your Prestashop catalog, up to date, to all marketplaces and price comparators.
In this file, you will find:
Your references in stock on your Prestashop e-commerce site
Your prices online
Product characteristics and attributes for each reference (description, detail, image, etc.)
Sellermania's Prestashop marketplaces module is free and you can download it at the following link:
http://www.froggy-commerce.com/fr/modules-prestashop/13-sellermania.html
You can consult the documentation on its installation at the following link:
http://www.froggy-commerce.com/docs/sellermania/fr
If you are on Prestashop, this marketplaces module facilitates your product feed management by allowing you to distribute your Prestashop catalog on all marketplaces and market price comparators: Amazon, Cdiscount, Mano Mano, Fnac, Darty, Rakuten, Auchan, Back Market … and many others are interfaced via this Prestashop marketplaces module.
Sellermania's Prestashop marketplace module allows you to send your marketplace orders to your Prestashop site.
If you are connected to your Prestashop, the marketplace module returns orders every 15 minutes. You can also set it to the desired frequency via a cron job.
This tool allows you to retrieve and process your Marketplaces orders from your personalized Prestashop space, continuously.
At the frequency you want. By default, orders are integrated every 15 minutes if you are logged into your Prestashop back office. You can also schedule a cron job and integrate the commands at the desired frequency.
Sellermania continuously polls marketplaces, regardless of what you choose for your Prestashop. You are then free to define how often you want to integrate marketplaces on your Prestashop.
Sellermania's Prestashop marketplaces module exports your product feed to the Sellermania feed manager, which in turn is responsible for distributing your products on the various marketplaces and updating stocks.
From Sellermania's feed manager, you then define all kinds of filters and rules that allow you to optimize your flow. For example, you can decide not to put on marketplaces products with less than x units in stock.
You can also exclude a particular product, range, supplier, brand, etc., that you wish to reserve for your site and not export to marketplaces.
The update frequency is configurable, many sellers schedule it for 8x per day.
It's up to you. The Sellermania feed manager allows you to establish the rules you want: to have the same price as on your Prestashop, more or less expensive by x €, y%. You can also set a price for one marketplace and another price for another marketplace.
Sellermania also has the ability to boost your selling prices according to marketplace competition. For example, you sell such and such a product for € 15 on your site, and you define that this same product will be salable between € 16 and € 25 on marketplaces. Sellermania will then position the product at the best price on the marketplaces in the range you have defined.
You can also make promotions on your site but not on marketplaces, or vice versa.
The flexibility is total.
To as many marketplaces as you want. Amazon, Cdiscount, Fnac, Darty, Back Market, Mano Mano, Rakuten, Intermarché, Auchan, Nature & Découvertes, Ubaldi, LDLC, Spartoo, Google Shopping … The list is long and contains hundreds of platforms.
This module also allows you to distribute your products to price comparators, retargeting platforms, social networks …
Sellermania's feed manager is extremely flexible and comprehensive, and allows you to distribute your product feed to any channel. You can also create your own channels, and add custom "output formats".
This marketplaces module for Prestashop, connected to Sellermania, allows you to shape your product feed as you wish and transmit it to whoever you want in the format you want.
Yes in several ways. On the one hand, the marketplaces module makes it possible to exclude certain categories, and on the other hand, Sellermania makes it possible to exclude any product from the sale of one or more marketplaces in an ultra flexible way. Filters make it possible not to sell a particular product, such or such brand, supplier, category, price bracket, etc.
You have full control over these filters and can combine them with all kinds of rules, as fine as your imagination allows.