Prestashop marketplace module
PRESTASHOP Marketplace module
You work on Prestashop and you are looking for a marketplaces module ? Export your product feed to marketplaces, collect your orders, synchronize your stocks. Sellermania's Prestashop extension allows you to get the most out of marketplaces without leaving its Prestashop interface.
Sellermania's Prestashop marketplaces module is free and interfaces perfectly with marketplaces via Sellermania's marketplaces feed management software: Amazon, Cdiscount, Fnac, Rakuten, Mano Mano, Darty … export your catalog to all these marketplaces and increase your sales.
Features natively supported by the Prestashop marketplaces module:
All marketplaces connected to Sellermania can be found in your Prestashop
Continuous integration of marketplace orders into your Prestashop
With all the details of Sellermania orders: EAN, SKU, category, status …
Automatic order confirmation from the module
Prestashop sends the tracking numbers to the different marketplaces via the marketplaces module
Printing marketplace invoices from your Prestashop
Decreasing stocks directly in your Prestashop: Orders from marketplaces decrease your Prestashop stock and vice versa
Catalog export: your Prestashop catalog is sent via the module to marketplaces
Creation of product sheets: an article created in your Prestashop can be created directly on the marketplaces
Inventory management with size / color variations
Possibility of chaining the SKUs corresponding to several EANs
Dedicated to Prestashop, a marketplaces module developed by specialists
Module developed by Froggy Commerce, a specialized Prestashop agency, made up of former Prestashop developers, in association with Sellermania, marketplaces expert for 15 years.
Used by hundreds of merchants on a daily basis.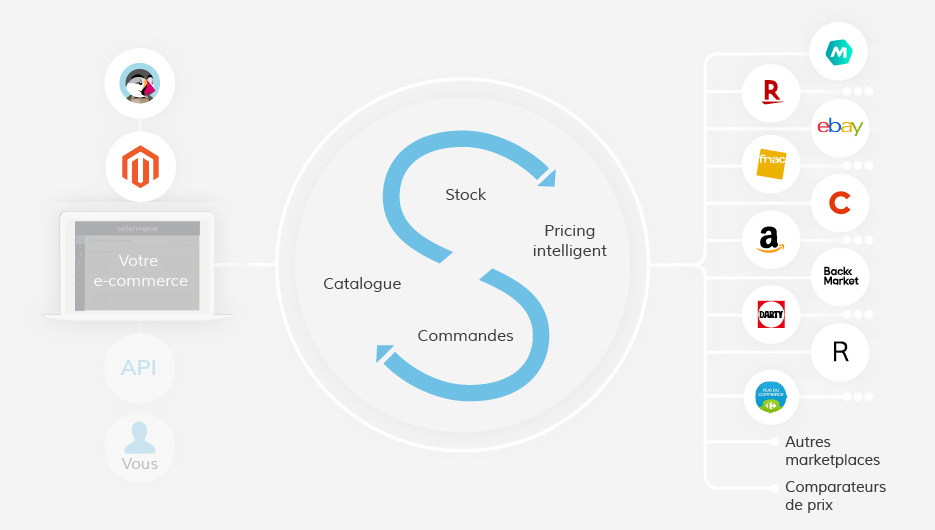 Download the Prestashop marketplace module for free.
Our marketplace module is compatible with Prestashop versions from 1.4 to 1.7 and is accompanied by installation documentation.
Do not hesitate to contact our experts for more information: 01 79 75 53 00 .