Sell better on Rue du Commerce
Sell better on Rue du Commerce marketplace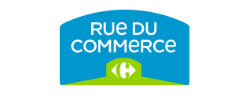 What's Rue Du Commerce?
Launched in 2007, the Rue du Commerce marketplace is a great success, with 12,000 brands and 650 merchants. Don't miss the opportunity to join one of the leaders in eCommerce in France: 188 million visits in 2013. With 8% of their audience coming from mobile connection, Rue Du Commerce has, from the beginning, established itself as a pro-multimedia platform. Last year, Rue Du Commerce recorded 2.5 million orders, for an average basket of 208 euros.
The marketplace Rue Du Commerce, both generalist and high-tech
If your inventory contains high-tech products or products belonging to the Home & Decor categories (hardware, decoration, tableware, equipment, etc.), then Rue Du Commerce is the marketplace for you!
Rue Du Commerce has an elitist approach
Their approach favors high quality sellers, with targets towards higher scale products: a large catalog, a high volume capacity but mostly a high level of customer services make the entry ticket.
In the end, if you are elected to sell on Rue Du Commerce, you have all needed to develop a strong turnover.
Being a merchant on the Rue Du Commerce Gallery is the insurance:
To develop your additional turnover
To be visible to 1 in 3 French cyber buyers
To benefit from a profitable and risk-free partnership : you only pay if you sell
Rue Du Commerce on mobile
Rue du Commerce has been appealing for a target demographics using phones or tablets to access the platform. Their app allows customers to browse and buy one of the 2 million products offered, as well as read buying guides.
But above all, to personalize the home page according to their profile, allowing buyers to filter according to their needs.
How can Sellermania help you to maximize your sales potential?
Sellermania is perfectly interfaced with your Rue Du Commerce account. You can :
Save time in managing your orders.
Optimize your sales by maximizing your exposure on Rue Du Commerce.
Reference your products according to all Rue du Commerce standards using the Sellermania Mapper.
To find out more, complete the form on this page and we will get back to you.
The Sellermania team is here to help you!
Registration of merchants Rue du Commerce
The Rue du Commerce affiliation offer
Blog: Get started on Rue du Commerce, the marketplace with 8 million customers