Shopping Actions is Google's platform.
It allows you to buy products directly from the search engine.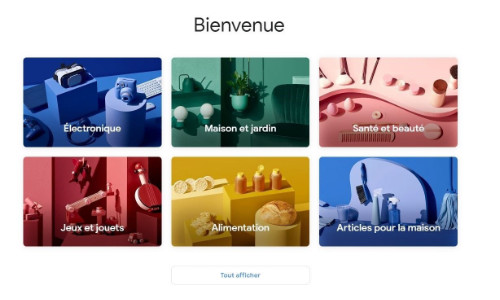 Present in the United States for 2 years, this new marketplace was officially launched in March 2019 in France. France is the only market in the world where this experience is activated, outside the US. Several partnerships have already been launched: Auchan, Carrefour, Boulanger, Fnac and Darty.
This is a real opportunity for the first merchants who will open their shop there.
As usual, the first arrivals on this type of platform take pride of place, and can develop before too many competitors arrive. We therefore strongly encourage you to register as soon as possible.
According to François Loviton, Director Brand at Google: "We consider that the Shopping Actions program is an opportunity for merchants, who will be able to offer a new, fluid shopping experience and product discovery to their consumers on different Google properties, therefore starting on the Google Shopping tab, and later on the Google Assistant in France. ".
The difference between Google Shopping and Shopping Actions
The fundamental difference is that Google shopping is a comparison of products and prices, and does not allow you to buy directly from Google. When you click on a product page for this Google service, it redirects you to the merchant's website, where you complete the transaction.
With Shopping Actions, the ads are visible in the Shopping section of Google and can be identified by a new blue button : Buy with Google. This allows you to stay in the Google environment, and not to go to the product page of the merchant site. So you pay on Google, like on any other platform of this type.
Another advantage is being able to put products from different sellers in your basket.
Another difference is that for the Google comparator, the seller / is paid on a cost per click basis. While for the platform, the seller / himself only pays if the product has been sold (commission system.).
Google Shopping and Shopping Actions are therefore completely complementary .
On Google Shopping, you appear in the search results and the visitor is redirected to your site: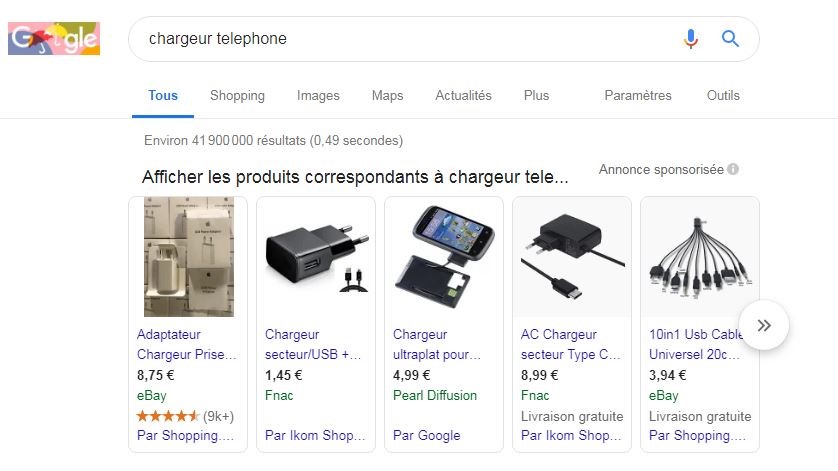 Example: Shopping Actions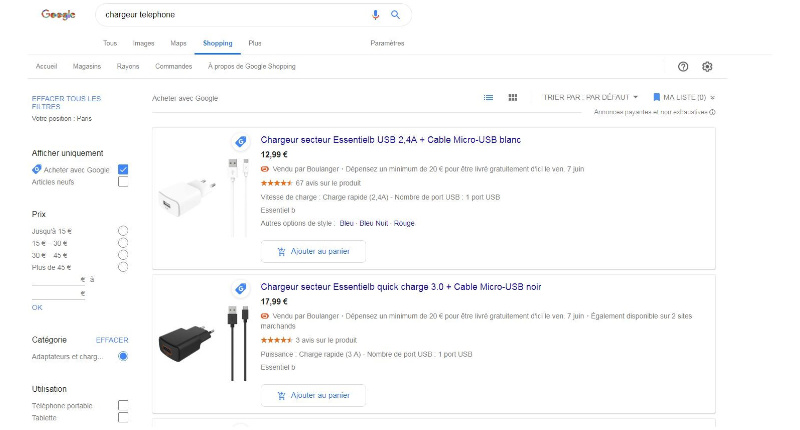 Step 1: Create a Google Merchant account
For both services, the creation of a single Merchant Center account is required. It is through this platform that Google Shopping campaigns are managed, and that Shopping Actions product catalogs are integrated and updated.
Selling on Shopping Actions ensures you a presence in the Google ecosystem: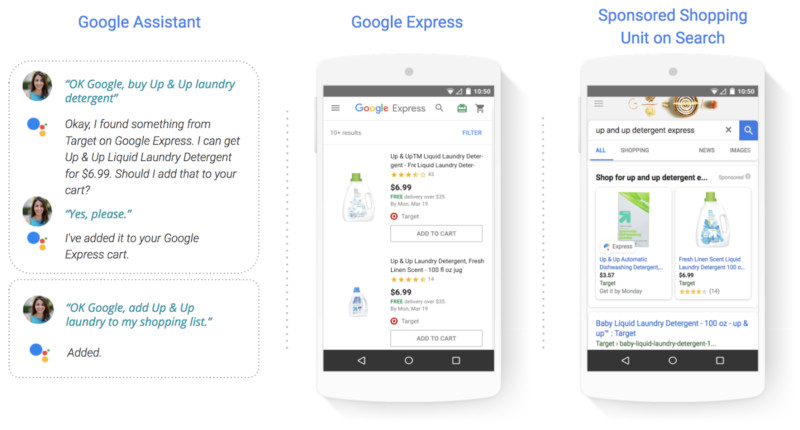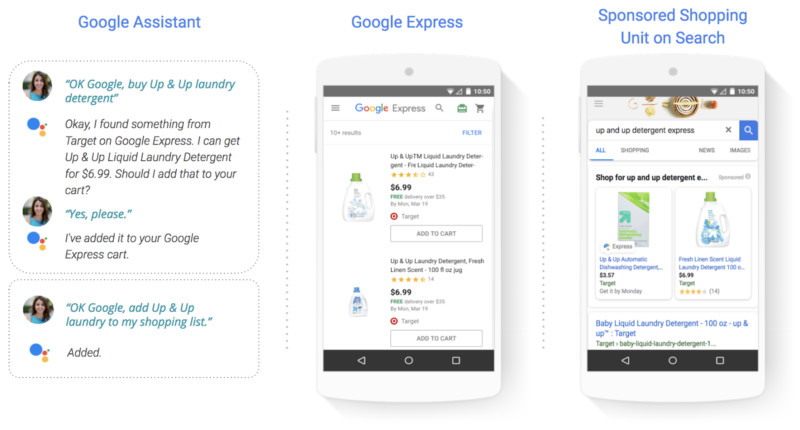 Google Assistant: the voice recognition system – It allows you to ask Google to find a phone charger to buy
Google Shopping: the comparator allows you to see the different brands and prices of the phone chargers offered
Shopping Actions: the experience that allows you to buy directly on Google
Google Express: Google's fast delivery service. Once the order is placed, Google will deliver the phone charger to you within a short time
Google account: it is thanks to his Google account that the recommendations will be personalized, the delivery address geo localized, and the various information filled in
Shopping Actions eligibility criteria
To join the adventure on the Google platform, you must meet certain conditions:
Have a legal entity, bank account and customer service in France
Have your own inventory (which does not come from Marketplace for example)
Have quality content (data is subject to Google quality testing and must be validated)
New products only
No heavy and bulky products (< 30 kilos)
Warehouses in France (deliveries and returns managed in France: delivery within less than 5 days among other things)
Categories: Electronics, Home and Garden, Beauty and Health, Fashion, Toys and Media
In addition to its partners with the big names in distribution, "Shopping Actions is open to all merchants, large and small," explains François Loviton, Brand, retail and Google ecommerce director.
To register, here is the form: https://services.google.com/fb/forms/shoppingactions-fr/
If you are a Sellermania customer, we recommend that you complete the attached form and contact your sales representative to register and try to be among the first selected.
What are the Shopping Actions commissions?
First good news: there are no Shopping Actions subscriptions to be able to sell its products, unlike most other platforms.
Then, the Google system takes a commission for each sale made. Commissions are generally cheaper than those in other marketplaces, ranging from 7% to 12% depending on the product categories.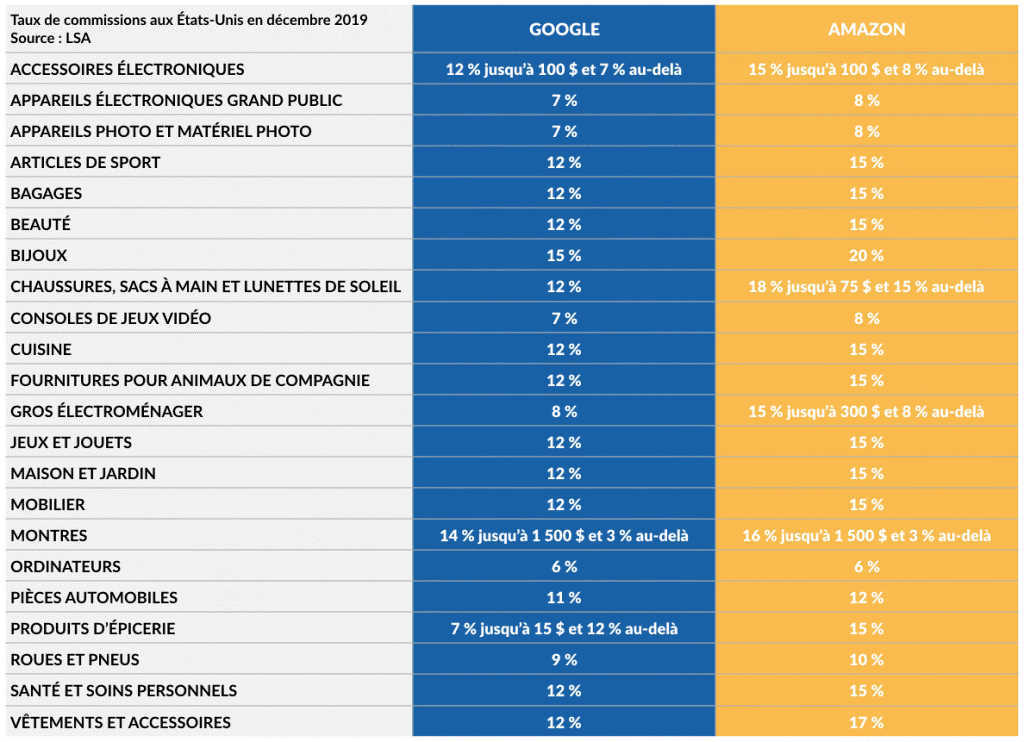 The advantages of Shopping Actions for sellers:
This new market place has many advantages to attract sellers:
Google traffic and image: With more than 50 million unique visits per month, Google is the most visited site in the world. Being present on this platform increases its visibility.
Payment Security: All payments are secure with Google Pay, and customer service is available 7 days a week from 6 a.m. to midnight.
Customer relationship: c

Unlike most other marketplaces, Shopping Actions allows you to retrieve emails from buyers. A major advantage, which therefore allows sellers to build up a customer database, and above all to capitalize on each sale they make on the marketplace.

No monthly subscription per month. Only commissions, cheaper than the competition and only on products sold.

The Merchant Center interface to manage this marketplace is easy to use.
So should we sell there?
Our recommendation: undeniably, yes.
While Amazon invests in advertising (Amazon Ads) and invests the territory of Google, Google launches in e-commerce. With its multitude of services offered, its traffic, and its technological advantages, Google brings together more than 300 million active users per month (540 million if we take Gmail into account). Shopping Actions therefore benefits from a solid base which is accustomed to using Google. This new marketplace has a bright future ahead of it.