Sell better on the marketplace ManoMano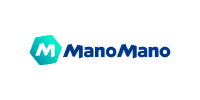 Increase your sales on ManoMano
With more than 20 million visits per month and more than 2.5 million active customers, ManoMano has become the most important commercial site specializing in DIY and the home. Formerly MonEchelle.fr, the marketplace became ManoMano in 2015 and is popular among the B2B professionals. It offers 6 international sites: France, Belgium, Spain, Italy, Germany and United Kingdom.
Pro tip on ManoMano

: Understand how ManoMano works

ManoMano being a specialized marketplace, adding an offer is the same process as creating of a product page, it is necessary to provide both:
Classic offer information: EAN, sku, price, quantity, condition, seller comment
Product information: detailed description, image, brand, supplier, product URL, size, weight, category, …
Pro tip on ManoMano: Manage your inventory effectively
Your customer service must be fast and irreproachable, thanks to:
Optimized and ultra-efficient inventory management
Fast order processing that is well interfaced with your systems
Relevant referencing
ManoMano offers the possibility of shipping through their logistics, an option that can be interesting if you do not want to deliver to the end customer yourself. Likewise, invoicing can be carried out by ManoMano if you wish and give the mandate to the marketplace.
Sellermania for order management:
Centralizes all your orders received from your marketplace seller accounts
Allows precise integration from your e-commerce site (with Prestashop or Magento module), if you want to continue to manage them from your site
Provides a complete online platform (order confirmation / cancellation, sending tracking numbers, etc.)
The Sellermania order manager ensures the level required by ManoMano.
On Sellermania, you can send standard, customizable emails with dynamic fields (product name, order number, buyer's address, etc.).
For example: sending of invoice in PDF, request for relaunch of evaluation, shipping confirmation, …
Pro tip on ManoMano

: Keep an eye on your stocks

You need a management system perfectly integrated with ManoMano, in order to manage your activity as closely as possible, from A to Z:
Intelligent stock management: monitoring, automated inventory decrement
Automated management of your orders
Speed-up updates to ManoMano
We allow you to directly manage your stocks and your orders on Sellermania.
For example, when an order is placed on ManoMano or another marketplace, it goes back to our interface, which automatically triggers an inventory update on all the sites where this product is present.
If you have an e-commerce site, we enable you to manage the updates of your stocks and your orders, fully thank to our Prestashop or Magento module.
Everything is done in Sellermania so that you meet the objectives given by ManoMano.
Note
Before any integration, you will work upstream with a ManoMano account manager to analyze and evaluate your product catalog in order to make a selection of products that you can put online.
Frequent questions about the Marketplace Mano Mano
Sell on ManoMano
No. It is not possible to sell products that are not new.
ManoMano is a specialized marketplace, therefore the product categories presented on the site are limited to the fields of activity related to DIY:
Garden & swimming pool
Cooked
Tools
Interior furniture
Bathroom & WC
Heating plumbing
Pet Shop
electricity
Lamp
Floor and wall covering
Hardware store
Construction and materials
No, a seller can set up his store on ManoMano without a website. However, he will need to provide the product and image URLs from his best selling channel.
Thus, to sell professionally, it is strongly recommended to have an e-commerce site for:
Make it easier to update prices
Manage quantities
Dynamically update product information
ManoMano has developed its own logistics tools and offers the logistics service ManoMano Fulfillment (MMF) that covers :
Storage of your items
Logistics allowing you to outsource your shipments
MMF is a paid option, to be set up with the help of your ManoMano account manager as there is additional information to provide.
Orders go back to a separate account from orders shipped by the seller. It is possible to have a mixed management of orders 
Part of the catalog shipped in MMF 
Another part of the catalog managed logistically by the seller