Efficient marketplace management software
Efficient marketplace feed management software
Are you an e-merchant, do you want to list your catalog on marketplaces? Trust an expert.
Marketplaces are a specialist's business. Their quality criteria are high, pushing a catalog feed is not enough. You need management software to best adapt your offer, maximize and optimize your SEO, list and synchronize your orders.
Our marketplace management software is based on cutting-edge technology and adapted to any e-merchant.
Intended for sellers who want to optimize their product feed and activity on marketplaces
Sellermania provides online software, accessible without downloading, to manage your entire marketplace activity. Your sales are centralized, whether you have a website or not, your orders are permanently integrated by Sellermania, which you can recover in your ecommerce if you wish . This makes it easier to manage your marketplace orders and you save time.

Our marketplace management software is comprehensive and easy to use.
Efficient, the best sellers are equipped with marketplace software like Sellermania
A sale made on marketplace X is immediately decremented from the other marketplaces where you are registered, without waiting. It is one of the most efficient marketplace order management software. You thus gain in service, quality, and sustainability on the marketplace.
Sellermania has established partnerships with most marketplaces and price comparison sites in France. Thanks to the software, you easily integrate your catalog and efficiently manage your flows to marketplaces and comparators .
6 questions about feed managers
Like product creation, order management can be centralized on your site, thanks to the import orders by the platform of the feed manager. This means that when you receive an order from a marketplace, it goes through the feed manager before arriving in your management system (your website for example, or your ERP).
Once the order is processed, shipped, your management system returns to the feed manager the update of the status of the order, as well as the tracking number of the package, and the feed manager in turn transmits the information to the marketplace.
In other words, the feed manager allows you to centralize the orders of the marketplaces in your system, and to operate the sales of the marketplaces "remotely".
The marketplaces feed manager allows you to make transformation rules, called mapping rules, so that your product feed is optimized, and meets all the requirements of the marketplaces. Several types of rules exist depending on the complexity of what you want to do:
Simple mapping rules

Category mapping rules
This type of rule is used to recategorize the products of the feed. Here, Fnac has a "Multi-activity Swings / Gantry" category.

Complex mapping rules
This type of rule is used to transform the content of the feed. Here for example, the rule removes the HTML code from the description, because HTML is prohibited on the FNAC marketplace. Many transformations are possible: "find – replace", "remove", "concatenate", "add" etc. At Sellermania, our feed management solution is equipped with more than 50 functions that allow you to transform your product feed in depth, and adapt to all situations.

This work of rules is done on the feed manager platform and only needs to be done once. Once completed, the creation of product sheets will be automated and the files created will be referenced automatically in the corresponding categories on each of the marketplaces, ready for sale.
Marketplace integrator, feed aggregator, feed manager, what is it and what is it for? At Sellermania, feed management is our daily life: e-merchants use our feed management technology to optimize their activity on marketplaces.
When you have an e-commerce site and want to export the products from your site to marketplaces, this goes through a product flow, exported daily from the e-commerce site. The marketplaces feed manager will make it possible to distribute this product feed on the different channels that you will have targeted.
Each marketplace has its own requirements in terms of referencing and creating a product catalog: the references must be categorized according to a standard ("Mobile phones", "Hands-free kit accessories", "Tablets", etc.), the products described by attributes specific ("Power", "Weight", "Memory"…).
The product feed of your e-commerce site will have to be adapted and optimized to meet these requirements and allow the creation of catalogs on marketplaces and other channels.
The marketplaces feed manager , at Sellermania for example, consists of a series of rules, called mapping rules , which allow you to adapt your product feed to marketplace catalogs. These rules are to be configured only once, which allows to automate the processes thereafter, and create your new references automatically on the marketplaces.
A feed manager, also called a feed aggregator, becomes essential for putting online on several marketplaces in order to optimize and automate sales. It facilitates the daily management of online sales on marketplaces.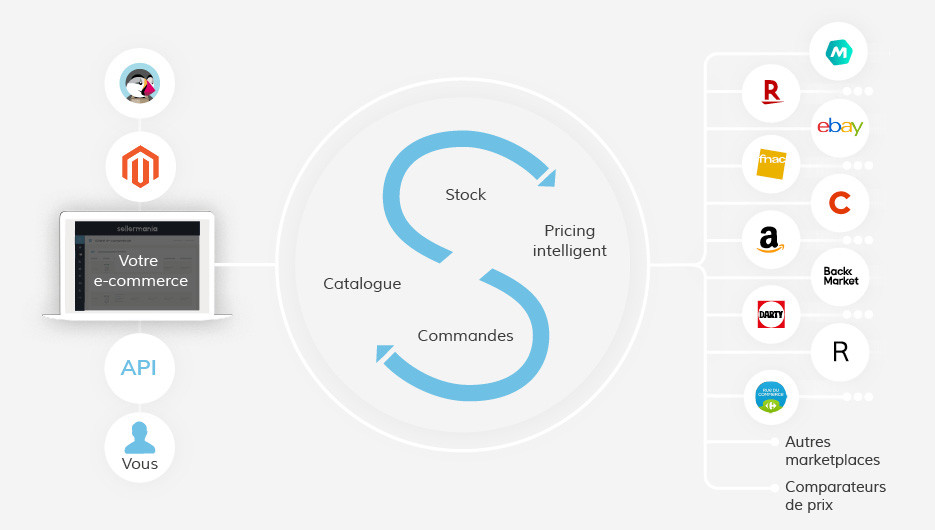 Your product catalogue generally comes from an e-commerce site (Prestashop, Magento, Drupal, Woocommerce, proprietary site, etc.), an ERP, a PIM, or a simple Excel file.
It contains all your references, with two types of information: product information, which describes the item sold, regardless of the merchant, and offer information, merchant specific, which describes the sale price, stock, the delay etc.
Descriptive information of the products:
EAN code
Title
Mark
Description
Image link
Category
Keywords
Specific attributes used to describe the article
etc.
Offer information:
Quantity in stock
Selling price
Delivery time
Terms of delivery
etc.
In red, product information, and in green, offer information: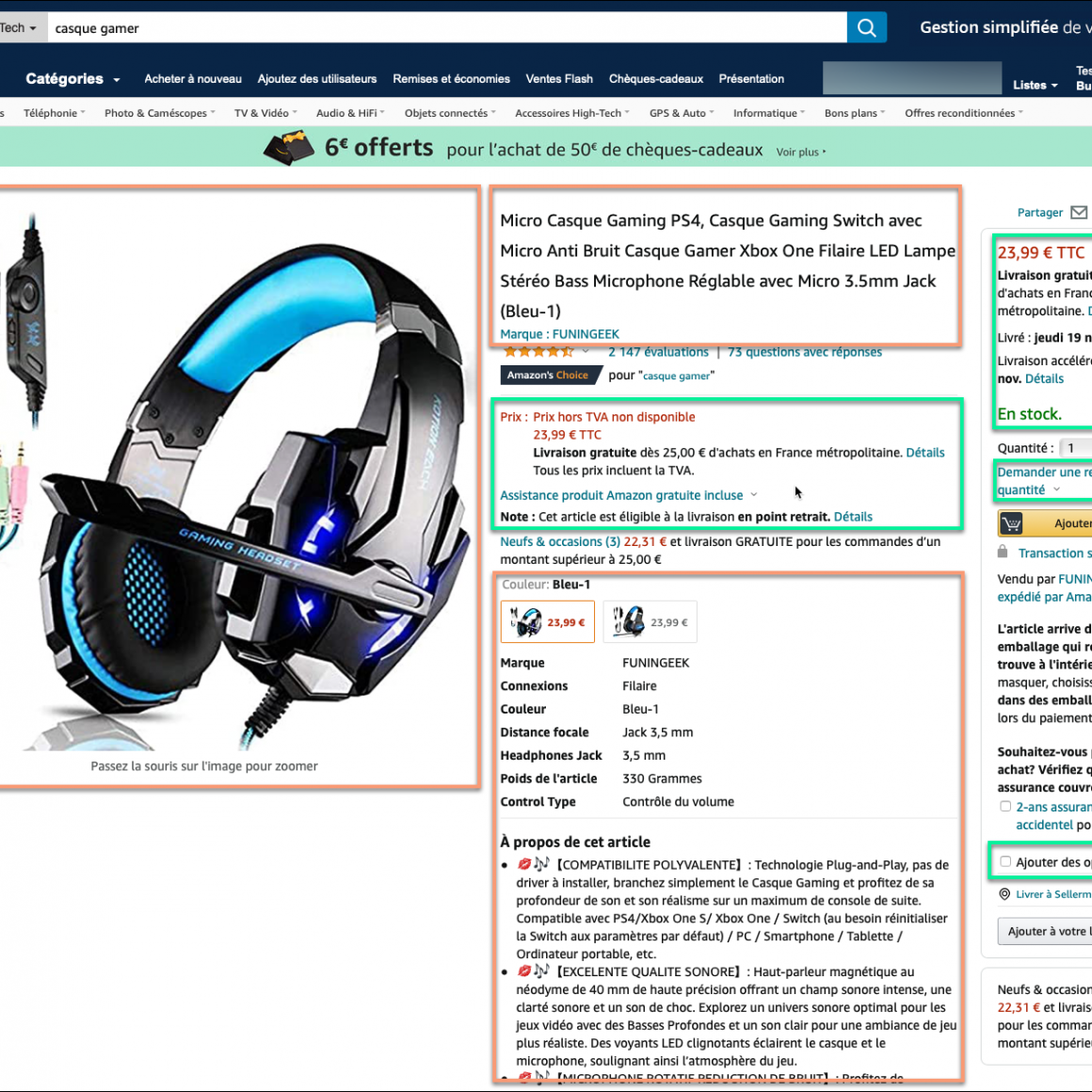 It is important that product information and offer information are clearly distinguished. Shipping costs should not be found in item descriptions, or your website address on product images. The descriptive information of the products will be used to create article sheets on the marketplaces sites, and they must therefore be independent of your offer information, and be content to describe the items sold.
Some marketplaces require a relatively high level of detail to describe items, multiplying attributes such as length, weight, gender, colour, etc. It can quickly become complicated if the product feed does not contain enough information to fill these attributes. Likewise, if this information is not easily identifiable in the product flow, because it is mixed in the description of the items, for example, this makes the integration complex.
The richer the product flow, the easier the integration into marketplaces will be.
The format of the file itself, whether CSV or XML, is usually of little importance, although often CSV is more convenient.