5 tips for selling on marketplaces
How to sell on marketplaces
5 TIPS FOR SELLING ON MARKETPLACES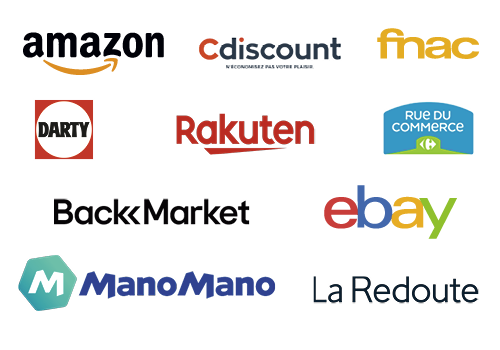 Do you already sell on marketplaces or are you wondering how to get started?
Here are 5 essential tips to succeed in the marketplaces and sell better.
To get started, you don't necessarily need a website. Most sellers who are successful on marketplaces don't actually have one. A site like Sellermania, helps you sell on all marketplaces at the same time, without having a website . Everything is centralized on the Sellermania platform, and you manage from one place.
Then, to perform on marketplaces, you have to respect a certain number of good practices. One of them is to have the products in stock . Many sellers get started by doing drop shipping , but this practice, in the long term, has a number of drawbacks. On the one hand, it is difficult to differentiate yourself if all the salespeople are sourced from the same place, and on the other hand, the level of service is complicated to achieve if you do not master the logistics.
1. Customer service: the key to selling well on marketplaces
This is the key to success. Selling on marketplaces is demanding and marketplaces all have drastic performance criteria. This is the case with Amazon , but also other marketplaces. The acceptance rate, the litigation rate, the speed of response to emails, etc., are indicators that marketplaces follow. Beware of anyone who exceeds the set limits. Beyond punishment, salespeople with the best metrics are put forward and appear before others. These are the ones who win the buy boxes, that is to say those that the buyers see first and therefore who win the sales. Arm yourself to be on top of customer service.
2. The breadth of offer ensures you exposure on marketplaces
A common mistake for new sellers is to only list products that don't sell, or choose a catalog subsection. It is a mistake ! think about the breadth of the offer, and display the bulk of your catalog. Selling on marketplaces often comes down to selling the long tail of your products, and the more items you put the more you sell. Do not hesitate to exhibit your catalog.
3. Price: one of the pillars of sales on marketplaces
Selling on marketplaces is by definition competitive. You need to have a pricing strategy, which is constantly benchmarking yourself against competitors and adjusting your prices down or up to stay in the market, earn sales, and make a margin. No need to sell your product for € 12 if you could sell it for € 14! This is what Sellermania does all the time, thanks to high-performance price adjustment software which continually recalculates for you at what price you should be on each item.
4. Automation of your marketplace management
To grow, you need to automate. Have a marketplace management software which saves you time on all time consuming tasks, reduces errors, and optimizes your business. Software like Sellermania, with a dedicated support team and experts to talk to in the event of a problem on the marketplaces.
5. Dedicated marketplace logistics to sell better
You need products available, correct inventory updates, and fast delivery. Your customers, and marketplaces won't let you get poor service. Monitor your logistics, your providers and make sure you deliver quickly to marketplaces. This also requires a solution efficient marketplace management which updates your stocks in near real time, collects orders regularly and quickly and allows you to manage them flawlessly.
See here to learn more about how to sell on marketplaces .
To go further and get started, do not hesitate to contact the Sellermania teams, we will be happy to assist you.