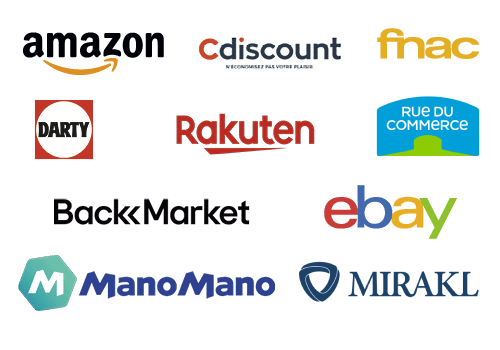 Placing products for sale on your website, when you are an e-merchant, is a full time job.
When you sell on marketplaces, and even more so on many marketplaces, this multiplies the amount of time you have to spend on it.
As your business grows, both in terms of the number of products on sale and the number of marketplaces, the day-to-day management can quickly become tedious. The use of a feed manager is recommended in order to manage your business efficiently.
#1 – You sell one or two products on a single marketplace
If you want to start selling on marketplaces in a modest way, your day-to-day management is usually simple:
If you only sell on a marketplace and do not have an online shop, there is no need to synchronise your stock. This is done automatically by the marketplace.
If you have an online shop and sell on a marketplace, you must synchronise your stock between your website and your marketplace account. Depending on the number of sales, you can do this manually or automate it with the assistance of a feed manager. If your sales are too important, this task will take a lot of time.
However, the situation becomes more complicated when you want to sell on several marketplaces:
Each marketplace requires its own product listings, and each type of product represents a stock that must be quickly deducted from the other marketplaces when a sale is made. This in addition to order processing, price changes and customer support.
This quickly becomes complex and unmanageable as more variables are added to the day-to-day management of marketplaces. The use of a marketplace flow manager is highly recommended, if not necessary.
#2 – You sell several products on several marketplaces
There are tools like Sellermania that help sellers to automate their activity on all marketplaces, saving valuable time and revenue.
Sellermania is a French feed manager founded more than 15 years ago by marketplaces experts. Our online platform helps sellers to automate their business.
All your

orders are centralised

in a single interface. You can then process them in bulk, regardless of the marketplaces.
All

your inventories from the different marketplaces are combined into one

. When you update your inventory, it is automatically updated on all the marketplaces you are connected to.

When you make a sale on a marketplace, the

stocks are automatically adjusted

on the other marketplaces.
Ability to do dynamic repricing: your prices are automatically adjusted upwards and downwards according to the level of competition: increase prices when competition is low and decrease them when it is high. You can increase your revenue, while respecting your price limits and ensuring your competitiveness. It is possible to reprice in more than 40 international and French marketplaces.
You can connect the software to your e-commerce, and upload all the orders to your website if you have one. Many sellers use Sellermania to sell at the same time on Amazon, Cdiscount, Fnac, Darty, Rakuten, eBay, BackMarket, ManoMano and many other marketplaces.

If you are already selling in a single marketplace and want to expand to others, this is the best way to do so effectively.