The Sellermania Mapper makes it possible to transform the product flows of e-merchants in a flexible and universal way, with the aim of creating new references on marketplaces. A new function has just emerged: the vertical list function. It's a simple way to list the combinations of the same product on one line.
Let's take an example.
Your product feed, or Excel file contains the information below: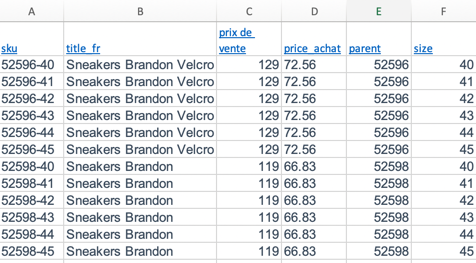 You want to retrieve the complete list of all variations in size of each model, on a single line, like this:

Function $ subSelectLookUpAll ( %(parent),% (size)) to do just that!
To do this in Excel, it would take several steps, intermediary functions, researchV, and above all a certain degree of expertise. All this is simplified and automated via the Mapper in this way.
New functions are constantly added to the Mapper, allowing you to always adapt to your most demanding requests, and to reference your products on Amazon, Cdiscount, Google Shopping, Fnac… and even to create personalized exports according to your particular requests.
For more information, contact an expert:
[contact-form-7 id="41348″ title="Formulaire de contact 1″]