New design, ergonomics, dashboard, completely revised product sheet, enhanced exports
We are pleased to present the Sellermania V3, which is enriched with a number of new features and improvements.
At Sellermania, we believe that not all feed managers and marketplace integrators are created equal. The "platform" type feed managers are the new generation to interface and perform on marketplaces. This new version of Sellermania takes another step in this direction and allows merchants to go further to be better on marketplaces.
We present a brand new interface design, modern, easy to use, a faster site, revised ergonomics and new exclusive features!
Dashboard: figures useful for the activity
The analytics section has been replaced by a dashboard, accessible from the home page and which presents everything you need to know where you are on marketplaces . The turnover, number of orders, by period, by marketplaces, graphs, distribution pie charts … and details on the best sales. A table by product indicates the products with high turnover, those which do not sell, the number of days of stocks by product, the sales per week by article, the available stocks. A real tool for managing sales and ensuring performance on the right products.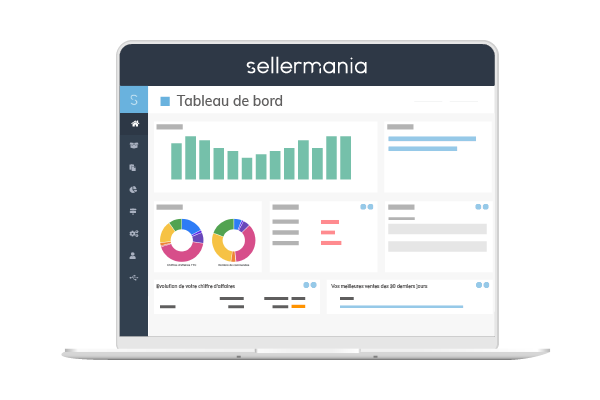 Article sheet by marketplaces: easy uploading
When you sell on several marketplaces at the same time, you need to save time. This is exactly what the new product page does. It allows, in all flexibility, to enter prices by marketplaces, make promotions or sales, enter preparation times, enter a different ad comment per marketplace, enter the logistics code Fnac or Darty, and many others things … and allows you to do this directly from the article file in Sellermania. It is a Sellermania exclusive, made to save time and gain in precision on marketplaces.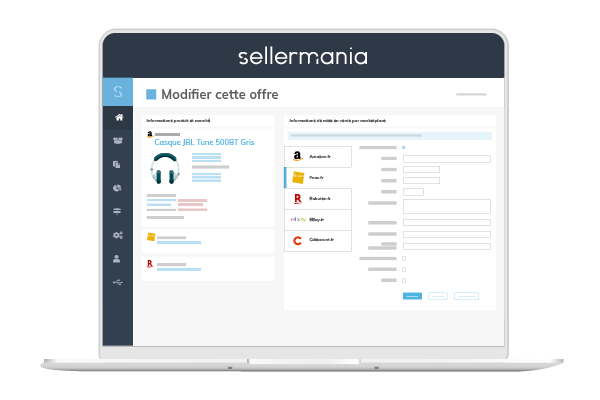 A faster and more optimized inventory
The inventory page, with its advanced filters, facilitates research. Its quick display allows you to view publication errors directly on the page, article by article, to find out why a product does not pass on a marketplace. Adding a new article by EAN or title is always as effective: enter the title of a product, or its EAN and the inventory automatically retrieves the article with its product sheet, its EAN, its ASIN, and especially , the state of competition in the market. Hundreds of merchants use this interface to efficiently publish their products on marketplaces.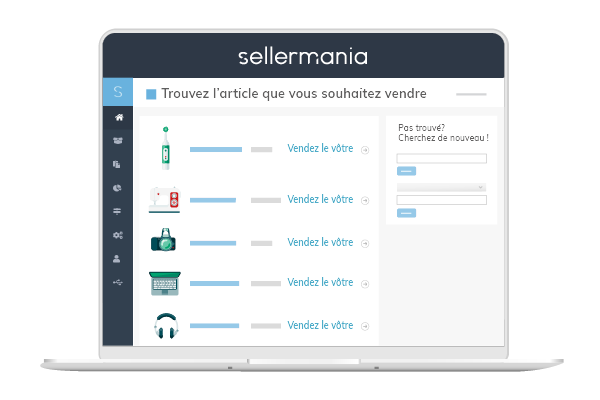 Files enriched with many columns
The followers of the files will be happy. Columns exported from inventory are now much more numerous . Become downloadable: detailed prices by marketplaces, EANs by marketplaces, Fnac, Darty preparation times, Backmarket identifiers, eBay profile identifiers, Darty Service 1 to 4 … and a very, very large number of other information has been added to the export!
Updates are as simple as ever: a simple file with SKU + the columns to modify allows you to update any information.
And always, efficient e-commerce feed management
This V3 includes feed management dedicated to marketplaces with more than 700 channels available, and management rules that are as flexible as they are efficient. Whatever the product category, the Mapper allows you to broadcast your feeds to any channel automatically. More than ever, it combines the power of the marketplace platform and the feed manager.
Click on "full screen" to see large. Feel free to subscribe to the channel and like
I take this opportunity to thank you, our customers, who inspire us for these improvements! We are proud to be at your service for 15 years and to continually invest in the best tools and technologies to help you grow in marketplaces. We want to be your marketplace technology partner more than ever, and will continue to improve Sellermania with your feedback.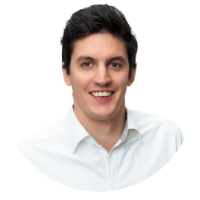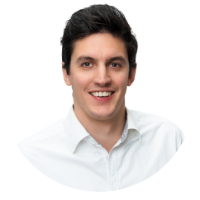 Sylvain Mançois
Product manager