Two types of flow managers
It is sometimes difficult to differentiate between flow management solutions. All of them seem to provide a similar service, for the same objective: to sell their products on marketplaces.
Yet there are important differences.
"Pure" flow managers whose role is to transmit the flow of products or the flow of orders from the merchant. Some focus on increasing the number of channels and claiming thousands of available channels. Others communicate on a technology which wants to be more "fluid".
"Platform" type flow managers , as Sellermania , which on the one hand transmit the flow of products and orders, and also provide a platform that adds a certain number of features specific to marketplaces (pricing, inventory decrement, etc.). At Sellermania, flow management is one of the features of our marketplace platform.
Both types of flow managers allow you to export your product flow to a very large number of channels and marketplaces and centralize orders. The difference lies in the features that go beyond flow management.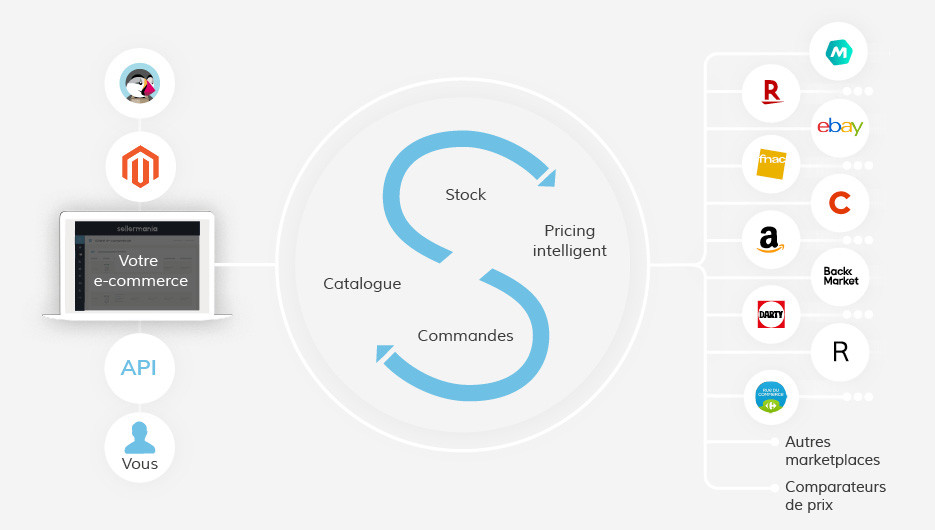 The advantages of "platform" type flow managers
"Platform" type flow managers like Sellermania provide certain advantages to sellers and go further than "pure flow management".
Much faster inventory decrement:
When a sale is made on a marketplace, "platform" type flow managers decrement the stock immediately on other marketplaces , where "pure flow managers" can take several hours. In fact, the "pure flow managers" upload the order to the flow, then reintegrate the change in stock into the next product flow, which can sometimes occur several hours later. This late update can have serious consequences on a marketplace and cause penalties on the seller's account.
The speed of this inventory update is decisive for a seller on marketplaces.
At Sellermania, when you make a sale on a marketplace, the stock is immediately updated on other sites , without waiting for you to retrieve the order . It saves a lot of time.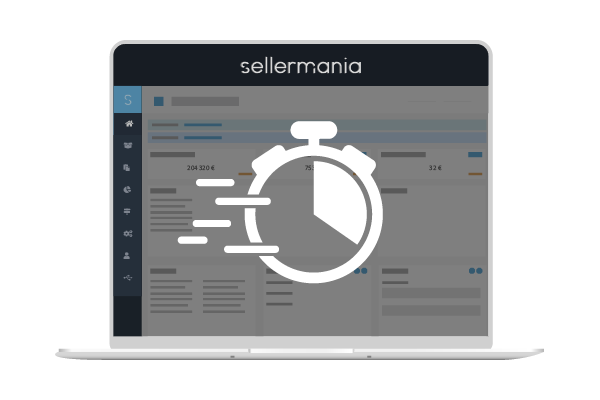 Dynamic price optimization and advanced features
By definition, the "pure flow manager" processes the information provided in order to redistribute it. The restatement is not enriched or supplemented by information captured from the marketplace.
Conversely, on a "platform" type flow manager, your flow can be enriched with competitive information , and allow you, for example, to modify your selling price according to marketplace competition. You can also retrieve information like the Amazon sales ranking , or the list of products on which you obtain the best price or buy box .
At Sellermania, dynamic pricing "Market Prems" has been awarded several times for its innovation and the impact it has on salespeople's turnover. A feature specific to our "platform" type flow management solution.
Other advanced features allow you to view your marketplace activity in a dashboard, synchronize your stocks with Amazon warehouses, manage orders "Shipped by Amazon multi-sites", view the competition or "chain products".
The potential of a "platform" type flow manager is greater than that of a "pure flow manager".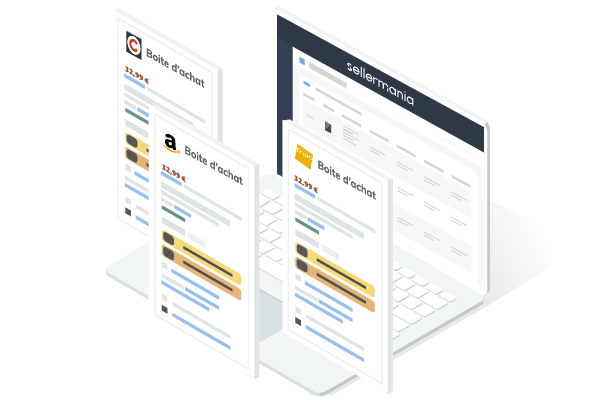 A complete tool that avoids multiplying external modules
It is normal that a " pure flow manager »Does not combine all the features to manage your marketplace activity. This therefore means that you have to install add-ons, which increases the cost and time investment in installing and setting up these add-ons.
The " platform »Brings together a maximum of functionalities and reduces overall costs .
Marketplace feed manager
On most marketplaces, this is absolutely not necessary. On some marketplaces, however, this is essential (Rueducommerce, La Redoute).
Having a merchant website usually indicates that you know how to deliver to the end consumer in good conditions, which will make your daily task easier. On the other hand, many sellers make significant sales on marketplaces and have no website. A site like Sellermania allows them to sell on several marketplaces at the same time saving considerable time in their management and minimizing manual errors.
If you do not know how to deliver to the end consumer, for example if you are specialized in BtoB, you can opt for "deported stock" solutions at Amazon or Cdiscount. The solutions offered by Amazon ("Shipped by Amazon", FBA) or by Cdiscount ("Shipped by Logistics", FBC) allow them to delegate delivery and customer service. . It is very often an excellent formula to start and guarantee quality customer service.
If you have a store and want to export your stock to marketplaces, you can do so in several ways:
If you can export a daily, up-to-date inventory file of what's available in your store, that file can be used to update marketplaces.
If you cannot export a daily file, you can dedicate part of your stock to marketplaces
With our Sellermania solution, you can manage your marketplace activity whether you have a website or not. 

It works like a multi-marketplace "Seller Central". You can manage your different marketplaces centrally.
Like product creation, order management can be centralized on your site, thanks to the import orders by the platform of the feed manager. This means that when you receive an order from a marketplace, it goes through the feed manager before arriving in your management system (your website for example, or your ERP).
Once the order is processed, shipped, your management system returns to the feed manager the update of the status of the order, as well as the tracking number of the package, and the feed manager in turn transmits the information to the marketplace.
In other words, the feed manager allows you to centralize the orders of the marketplaces in your system, and to operate the sales of the marketplaces "remotely".
The marketplaces feed manager is generally used by e-merchants. The configuration is more or less complex depending on the nature of the feed to be configured and the channels targeted.
It can, however, be used by any actor who needs to transform a stream from one format to another. At Sellermania for example, we use our feed manager, the Mapper, to transform our feed of customer invoices into a debit / credit accounting flow! The Mapper is so flexible that there is almost no limit to the transformation possibilities, and the use goes far beyond marketplace feed management.
The marketplaces feed manager allows you to make transformation rules, called mapping rules, so that your product feed is optimized, and meets all the requirements of the marketplaces. Several types of rules exist depending on the complexity of what you want to do:
Simple mapping rules

Category mapping rules
This type of rule is used to recategorize the products of the feed. Here, Fnac has a "Multi-activity Swings / Gantry" category.

Complex mapping rules
This type of rule is used to transform the content of the feed. Here for example, the rule removes the HTML code from the description, because HTML is prohibited on the FNAC marketplace. Many transformations are possible: "find – replace", "remove", "concatenate", "add" etc. At Sellermania, our feed management solution is equipped with more than 50 functions that allow you to transform your product feed in depth, and adapt to all situations.

This work of rules is done on the feed manager platform and only needs to be done once. Once completed, the creation of product sheets will be automated and the files created will be referenced automatically in the corresponding categories on each of the marketplaces, ready for sale.
The models vary according to the managers or aggregators of marketplace flows. Most solutions charge a price based on the number of products indexed in the feed that starts around € 150 per month.
Some solutions add a commission on sales.
At Sellermania, the software depends on the options chosen, and starts from € 149 per month, without commissions, depending on the features chosen in the software.
First on your e-commerce site
Like all software added to your site, you must download the module of your feed manager . You must check that it is compatible with the version of your site (ex: Prestashop 1.6). Then, there are operations specific to the module to be configured (eg: identification code to be retrieved from your manager) and the setting up of your preferences in the module (eg: display).
Then on the platform of your feed manager
This is where you set up your flow, and optimize it using mapping rules, category rules, and various management rules. An e-commerce feed management solution like that of Sellermania allows you to preview the feed before distributing it, to have an overview of errors to correct them upstream. For example, you can do a test on a single product, and make sure that your feed is correctly configured, before broadcasting your entire feed.
A feed manager allows you to:
Distribute your product catalogue on multiple sales channels, in order to increase your online presence.
Centralize the orders you place on marketplaces in order to facilitate their management
The marketplaces feed manager is used by e-merchants who wish to simplify the sale on several channels, by centralizing the activity. It allows them to export product feeds from their e-commerce site efficiently, without having to interface with each channel. This saves them time, and is more efficient.
Your product catalogue generally comes from an e-commerce site (Prestashop, Magento, Drupal, Woocommerce, proprietary site, etc.), an ERP, a PIM, or a simple Excel file.
It contains all your references, with two types of information: product information, which describes the item sold, regardless of the merchant, and offer information, merchant specific, which describes the sale price, stock, the delay etc.
Descriptive information of the products:
EAN code
Title
Mark
Description
Image link
Category
Keywords
Specific attributes used to describe the article
etc.
Offer information:
Quantity in stock
Selling price
Delivery time
Terms of delivery
etc.
In red, product information, and in green, offer information: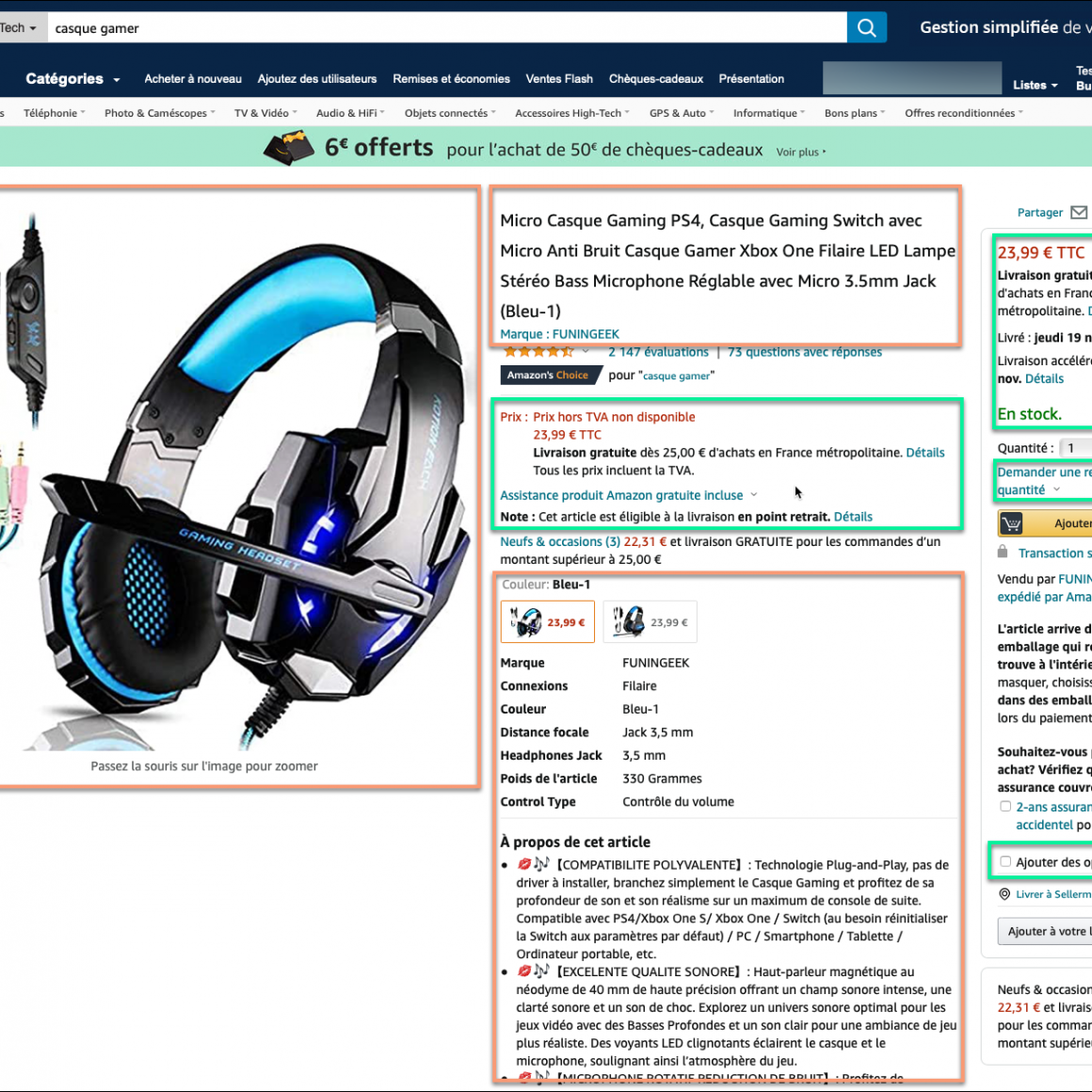 It is important that product information and offer information are clearly distinguished. Shipping costs should not be found in item descriptions, or your website address on product images. The descriptive information of the products will be used to create article sheets on the marketplaces sites, and they must therefore be independent of your offer information, and be content to describe the items sold.
Some marketplaces require a relatively high level of detail to describe items, multiplying attributes such as length, weight, gender, colour, etc. It can quickly become complicated if the product feed does not contain enough information to fill these attributes. Likewise, if this information is not easily identifiable in the product flow, because it is mixed in the description of the items, for example, this makes the integration complex.
The richer the product flow, the easier the integration into marketplaces will be.
The format of the file itself, whether CSV or XML, is usually of little importance, although often CSV is more convenient.