Two types of flow managers
It is sometimes difficult to differentiate between flow management solutions. All of them seem to provide a similar service, for the same objective: to sell their products on marketplaces.
Yet there are important differences.
"Pure" flow managers whose role is to transmit the flow of products or the flow of orders from the merchant. Some focus on increasing the number of channels and claiming thousands of available channels. Others communicate on a technology which wants to be more "fluid".
"Platform" type flow managers , as Sellermania , which on the one hand transmit the flow of products and orders, and also provide a platform that adds a certain number of features specific to marketplaces (pricing, inventory decrement, etc.). At Sellermania, flow management is one of the features of our marketplace platform.
Both types of flow managers allow you to export your product flow to a very large number of channels and marketplaces and centralize orders. The difference lies in the features that go beyond flow management.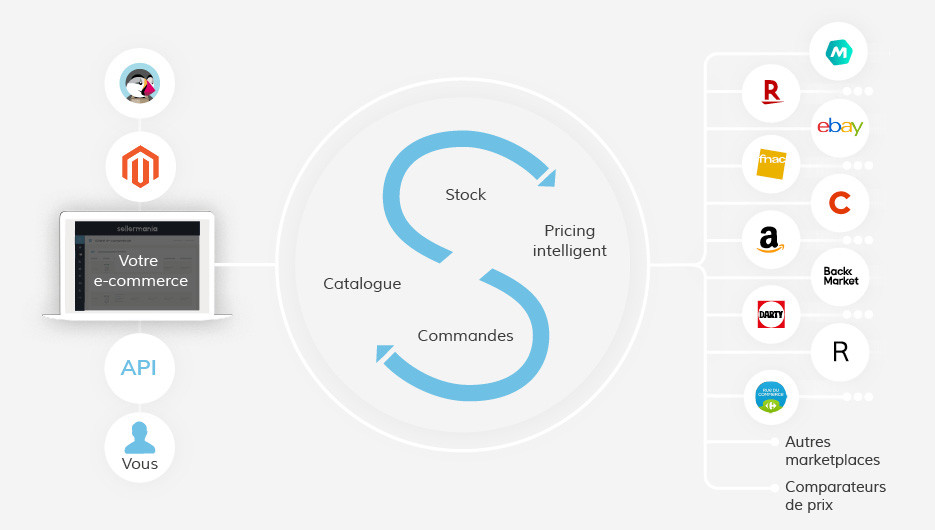 The advantages of "platform" type flow managers
"Platform" type flow managers like Sellermania provide certain advantages to sellers and go further than "pure flow management".
Much faster inventory decrement:
When a sale is made on a marketplace, "platform" type flow managers decrement the stock immediately on other marketplaces , where "pure flow managers" can take several hours. In fact, the "pure flow managers" upload the order to the flow, then reintegrate the change in stock into the next product flow, which can sometimes occur several hours later. This late update can have serious consequences on a marketplace and cause penalties on the seller's account.
The speed of this inventory update is decisive for a seller on marketplaces.
At Sellermania, when you make a sale on a marketplace, the stock is immediately updated on other sites , without waiting for you to retrieve the order . It saves a lot of time.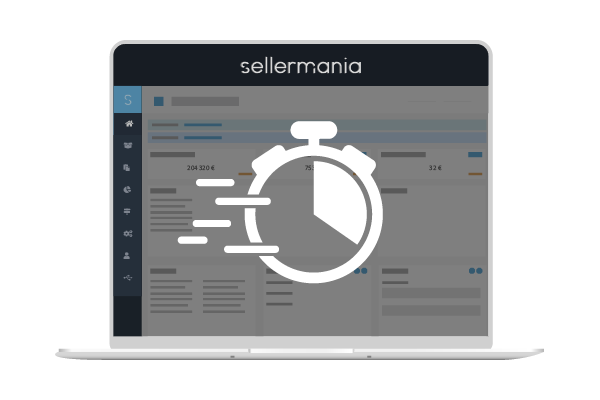 Dynamic price optimization and advanced features
By definition, the "pure flow manager" processes the information provided in order to redistribute it. The restatement is not enriched or supplemented by information captured from the marketplace.
Conversely, on a "platform" type flow manager, your flow can be enriched with competitive information , and allow you, for example, to modify your selling price according to marketplace competition. You can also retrieve information like the Amazon sales ranking , or the list of products on which you obtain the best price or buy box .
At Sellermania, dynamic pricing "Market Prems" has been awarded several times for its innovation and the impact it has on salespeople's turnover. A feature specific to our "platform" type flow management solution.
Other advanced features allow you to view your marketplace activity in a dashboard, synchronize your stocks with Amazon warehouses, manage orders "Shipped by Amazon multi-sites", view the competition or "chain products".
The potential of a "platform" type flow manager is greater than that of a "pure flow manager".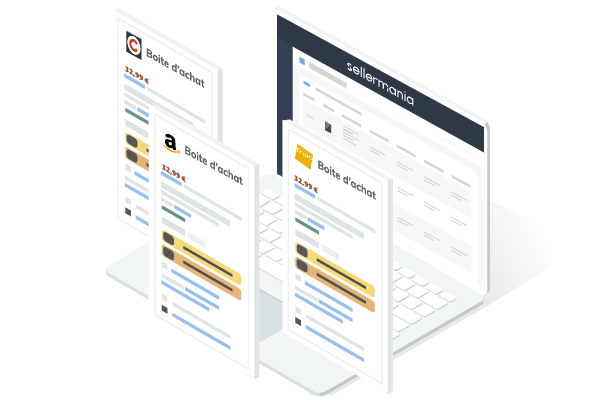 A complete tool that avoids multiplying external modules
It is normal that a " pure flow manager »Does not combine all the features to manage your marketplace activity. This therefore means that you have to install add-ons, which increases the cost and time investment in installing and setting up these add-ons.
The " platform »Brings together a maximum of functionalities and reduces overall costs .